PASTOR'S POST : Give Thanks Unto the Lord! November 20, 2016
Dear members and friends in Christ:
"Oh give thanks un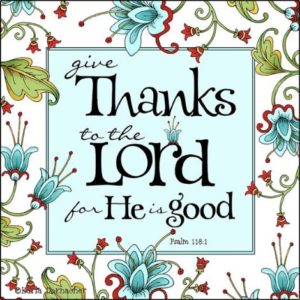 to the Lord, for He is good. His steadfast love endures forever."  That was one of the first Bible verses I memorized as a child. It was our table prayer at almost every meal.
At Shepherd of the Valley we have spent this year giving thanks for the steadfast love of the Lord as we celebrated 50 years of ministry as a church. As we concluded our celebration earlier this month, we were truly blessed to see the wonderful video Jeff Hintzman made celebrating the 50 years that our congregation has been sharing God's Word.  I hope we find additional ways to make it available soon.
In the video I was able to recognize the young faces of many of our current members: vacation Bible school, Christmas programs, confirmations, youth and adult retreats, these and so much more reminded us that God is worthy of our thanks and praise all the time, and His steadfast love endures.
But we especially remember God's steadfast love at Thanksgiving time. Our Thanksgiving Service will be Wednesday, Thanksgiving Eve, November 23, at 7:00 PM. After the service there will be a "pie fellowship," a tradition at Shepherd of the Valley. Please remember to sign up to bring a pie on the volunteer ministry bulletin board.
However, in spite of the joy of the season, I think we all realize too that not everyone feels especially grateful or joyful at Thanksgiving time. It may be that you yourself are stuck with old wounds, regrets, and sins that still bother you. The evil one is never far away from us in this life, ready to steal from us the joy of God's steadfast love.
For that reason I am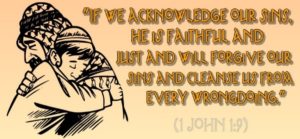 inviting you to consider whether sharing Individual Confession and Absolution with your pastor might be helpful to you in your faith journey. Few of us have had the opportunity to share in Individual Confession and Forgiveness.  But those who have, myself included, can find it to be a good way to put past sins and misdeeds behind them, in absolute confidentiality, and thus truly make a new beginning this Thanksgiving.
I will be available to individuals in the sanctuary this Thanksgiving Eve from 5:30-6:15 PM for those who would like to receive Individual Confession and Forgiveness. The brief order for this is found in the Lutheran Service Book on pages 292-293. I've also provided a copy on the back of this letter. We will sit together in the chancel near the altar rail for the service. Only one person at a time may be in the sanctuary with me during this time to keep confidentiality. Others who may arrive desiring individual confession and forgiveness will be asked to wait in the hall. Please contact me if you have any questions about this. I look forward to seeing you on Thanksgiving Eve.
God's blessings!
Pastor Joe Hughes
Voice & text:  217-898-9063              Email:  j_w_hughes@hotmail.com