Stations of the Resurrection
X – On the Road to Damascus
A Psalm Paraphrase
P:
It has pleased you, O God, to reveal your Son to us. You have been gracious to us and your blessing rests upon us.
1
In the beginning the Lord made his light shine out of the darkness. Now he has made his light shine into our hearts, to give us the light of the knowledge of his glory in the face of Jesus Christ.
2
When we are in Christ, there is a new creation. Lord, you have given us the ministry of reconciliation and made us your ambassadors. Our labor in the Lord is never in vain.
3
Therefore, we will not lose heart. Even though we get old and tired and our bodies seem to be wasting away, we are inwardly being renewed day by day. Our light and momentary troubles are nothing compared to the glory that outweighs them all.
4
Let us not merely fix our eyes on what is within the range of our physical sight; instead, let us focus on what is unseen. What is seen in only temporary, but what is unseen is eternal.
P:
Glory and blessing be to God the Holy One, Creator of the universe, who in the power of the Holy Spirit, raised from the dead our Lord, Jesus Christ.
Lection
Galatians 1:15-24
15But when he who had set me apart before I was born, and who called me by his grace, 16was pleased to reveal his Son to me, in order that I might preach him among the Gentiles, I did not immediately consult with anyone; 17nor did I go up to Jerusalem to those who were apostles before me, but I went away into Arabia, and returned again to Damascus.
18Then after three years I went up to Jerusalem to visit Cephas and remained with him fifteen days. 19But I saw none of the other apostles except James the Lord's brother. 20(In what I am writing to you, before God, I do not lie!) 21Then I went into the regions of Syria and Cilicia. 22And I was still unknown in person to the churches of Judea that are in Christ. 23They only were hearing it said, "He who used to persecute us is now preaching the faith he once tried to destroy." 24And they glorified God because of me.
P: This is the word of the Lord.
C: Thanks be to God.
1 Corinthians 15:50-58
Reading 1 Corinthians 15:50–58
50I tell you this, brothers: flesh and blood cannot inherit the kingdom of God, nor does the perishable inherit the imperishable. 51Behold! I tell you a mystery. We shall not all sleep, but we shall all be changed, 52in a moment, in the twinkling of an eye, at the last trumpet. For the trumpet will sound, and the dead will be raised imperishable, and we shall be changed. 53For this perishable body must put on the imperishable, and this mortal body must put on immortality. 54When the perishable puts on the imperishable, and the mortal puts on immortality, then shall come to pass the saying that is written:
"Death is swallowed up in victory."
55"O death, where is your victory?
O death, where is your sting?"
56The sting of death is sin, and the power of sin is the law. 57But thanks be to God, who gives us the victory through our Lord Jesus Christ.
58Therefore, my beloved brothers, be steadfast, immovable, always abounding in the work of the Lord, knowing that in the Lord your labor is not in vain.
P: This is the word of the Lord.
C: Thanks be to God.
Acts 9:1-30
1But Saul, still breathing threats and murder against the disciples of the Lord, went to the high priest 2and asked him for letters to the synagogues at Damascus, so that if he found any belonging to the Way, men or women, he might bring them bound to Jerusalem. 3Now as he went on his way, he approached Damascus, and suddenly a light from heaven flashed around him. 4And falling to the ground he heard a voice saying to him, "Saul, Saul, why are you persecuting me?" 5And he said, "Who are you, Lord?" And he said, "I am Jesus, whom you are persecuting. 6But rise and enter the city, and you will be told what you are to do." 7The men who were traveling with him stood speechless, hearing the voice but seeing no one. 8Saul rose from the ground, and although his eyes were opened, he saw nothing. So they led him by the hand and brought him into Damascus. 9And for three days he was without sight, and neither ate nor drank.
10Now there was a disciple at Damascus named Ananias. The Lord said to him in a vision, "Ananias." And he said, "Here I am, Lord." 11And the Lord said to him, "Rise and go to the street called Straight, and at the house of Judas look for a man of Tarsus named Saul, for behold, he is praying, 12and he has seen in a vision a man named Ananias come in and lay his hands on him so that he might regain his sight." 13But Ananias answered, "Lord, I have heard from many about this man, how much evil he has done to your saints at Jerusalem. 14And here he has authority from the chief priests to bind all who call on your name." 15But the Lord said to him, "Go, for he is a chosen instrument of mine to carry my name before the Gentiles and kings and the children of Israel. 16For I will show him how much he must suffer for the sake of my name." 17So Ananias departed and entered the house. And laying his hands on him he said, "Brother Saul, the Lord Jesus who appeared to you on the road by which you came has sent me so that you may regain your sight and be filled with the Holy Spirit." 18And immediately something like scales fell from his eyes, and he regained his sight. Then he rose and was baptized; 19and taking food, he was strengthened.
For some days he was with the disciples at Damascus. 20And immediately he proclaimed Jesus in the synagogues, saying, "He is the Son of God." 21And all who heard him were amazed and said, "Is not this the man who made havoc in Jerusalem of those who called upon this name? And has he not come here for this purpose, to bring them bound before the chief priests?" 22But Saul increased all the more in strength, and confounded the Jews who lived in Damascus by proving that Jesus was the Christ.
23When many days had passed, the Jews plotted to kill him, 24but their plot became known to Saul. They were watching the gates day and night in order to kill him, 25but his disciples took him by night and let him down through an opening in the wall, lowering him in a basket.
26And when he had come to Jerusalem, he attempted to join the disciples. And they were all afraid of him, for they did not believe that he was a disciple. 27But Barnabas took him and brought him to the apostles and declared to them how on the road he had seen the Lord, who spoke to him, and how at Damascus he had preached boldly in the name of Jesus. 28So he went in and out among them at Jerusalem, preaching boldly in the name of the Lord. 29And he spoke and disputed against the Hellenists. But they were seeking to kill him. 30And when the brothers learned this, they brought him down to Caesarea and sent him off to Tarsus.
P: This is the word of the Lord.
C: Thanks be to God.
Artwork and Discussion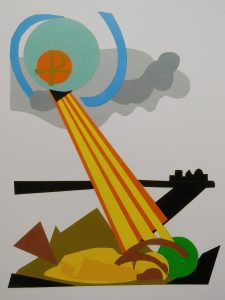 Acts 9:1-30
St. Paul is convinced that it "pleased God to reveal His Son to me" (Galatians 1:15-16), a revelation that began on the road to Damascus and took Paul (then named Saul) into the wilderness for his one on one theological awakening and further training. He lists himself last among those to whom the Lord Jesus appeared, "as one untimely born" (1 Corinthians 15:8). So it is fitting for us to conclude the "Stations of the Resurrection" with the story of what happened to Saul on the road to Damascus. The story is simple: Saul had obtained a certifying letter allowing him to persecute, round up and jail Christians in Damascus, and was traveling there with murderous intent when a bright light knocked him off his high horse. He was blinded by the light, heard a voice that inquired why does Saul "persecute me?" The "me" in question is Jesus, a name lively in Saul's memory prompted by Stephen the martyr's dying witness (Acts 7:51-60—"Saul was there, giving approval to his death.").
The transformation of Saul to Paul, his coming to faith in the One he once thought was a heretic and whose followers should be put to death, who mystified people in Damascus by proclaiming the truth about the One he once intended to suppress (Acts 9:1-22) is a dramatic outgrowth of Jesus' resurrection. Paul tells the story of his conversion to King Agrippa (Acts 26), and asks, "Why should any of you consider it incredible that God raises the dead?" In a less than ultimate fashion, God's grace toward Saul was a "little resurrection." God still raises the dead. Least of all, "little Paul."
Meditation / A Responsive Reading
5
The lightning strike was close and blinding. The storm above matched the storm within the heart, and blind Saul had to be led by the hand, leaving his pride and prejudice behind. Religious inquisitions and persecutions are never part of God's plan. Only gracious persuasion works and leads to the new birth of Holy Baptism. After baptism, there are no longer divisions between rich and poor, slave and free, men and women, Jew and gentile, black and white, young and old–we are all one in Christ. Such is the power of God.
6
Paul was convinced that this appearance was the last and final mysterious visit of the risen Christ, this time to the last and the least of the apostles, one "untimely born." If God could make use of an enemy of the church, he can also make use of us. When God turns his face toward us, he turns enemies into friends.
7
Paul witnessed his faith before kings and emperors. We can give witness to our faith in Christ before friends and neighbors. The witness comes in the manner by which we live, following Jesus "the Way" and walking in his footsteps. We wait, ready for the questions about our inner motivation, the hope within us. God will give us the effective words.
The Prayer
P:
O God, you stopped Saul in his tracks and turned him around, so that the persecutor became the proclaimer. As Paul, the "little one," he was a forthright mission preacher to gentile city dwellers. Help us to witness to the truth of your grace, proclaiming the meaning of the crucified and risen Christ, that we may be caught up in the power of your love. Amen.
Closing Hymn
Closing
A:
Paul visited the cities of the Mediterranean world on his missionary journeys. When we map out our journeys and visits, let us think about the fitting message of faith that we carry with us. In what ways is the First Century world like the Twenty-first Century world? Might the tactics for sharing the gospel used by Paul also work today in our post-Christian culture? Who is your partner for the journey? What part of the Christ message will have the most impact?