Following the Good Shepherd!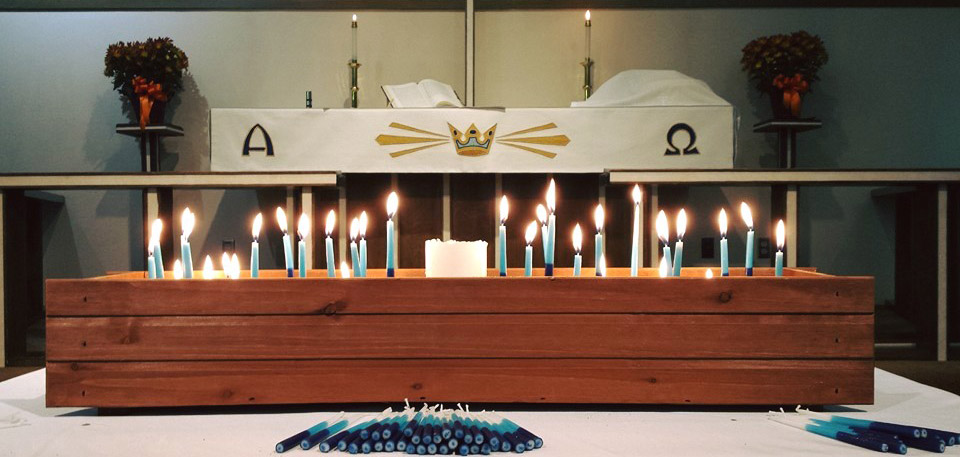 About Shepherd of the Valley Lutheran Church
Shepherd of the Valley is a congregation of The Lutheran Church Missouri Synod (LCMS) that invites, equips, supports, and inspires people to follow Jesus as their Good Shepherd. Our desire is to be a congregation where people find the comfort of God's grace and discover joy, peace, and purpose for their lives! New people and visitors are always welcome to join us for worship, learning from the Scriptures, prayer, and fellowship at our church campus.

Shepherd of the Valley Values
God's Word
We value God's true unchanging Word, the Holy Bible. We believe that the simple gospel of salvation by God's grace alone through faith in Jesus Christ has power to save the lost of this and all generations. We seek God's truth through biblical preaching and Bible study for all. We value our Lutheran Christian identity grounded in God's Word, and the sacraments of Holy Baptism and Holy Communion. We value obedience to God in all aspects of life and encourage the observable practice of God's Word to help raise people to spiritual maturity.
Worship
We value God and worship Him for all He is and all He does for us. We practice gospel-oriented, enriching, & restorative worship that encourages the full expression of our gratitude for Christ's sacrifice on the cross. We seek to create an environment in which people can glorify God and receive His love through His Word, prayer, music, preaching, and the celebration of the sacraments.
Prayer
We value God's invitation to enter into His presence through prayer in the name of Jesus Christ and with the power of the Holy Spirit. We commit to the continual development of active prayer lives as individuals and as a body. We pray for each other. We rely on God's answers to our prayers to guide our ministries and activities. We provide many opportunities to join in prayer as spiritual, personal, community, and global challenges are revealed.
Spiritual Growth & Maturity
We value spiritual growth in all believers. We offer resources and support through all stages of an individual's faith walk with the Lord. We provide Christian education in its many forms which encourage a deeper personal relationship with Jesus Christ. We promote the discovery and use of spiritual gifts to fulfill God's vision for each person's life through their personal service and ministry.
Caring
We value every person in the congregation. We care for and support people in tangible ways when a need exists. We care for our neighbors.
We seek to reach our community with the love of Jesus Christ by ministering to physical, emotional, and spiritual needs. We are equipped to provide real solutions for hurting people through our faith, actions, and resources.
We care for God's people all around the world. We commit a percentage of our congregational monies to people and organizations actively involved in bringing people to faith in Jesus Christ.
Fellowship
We value Christian fellowship and the close personal relationships it creates. We value small groups and the opportunities they provide for mutual support, spiritual growth, Christian service, and fun. Gathering together with fellow believers in the presence of the Holy Spirit strengthens us for an active Christian life.
Children & Youth
We value the presence and participation of children and youth in all parts of church life. We nurture our children and youth through a variety of worship, education, and fellowship opportunities designed especially for them.
Financial Stewardship
We value the wise and public stewardship of all contributions received and the material goods, services, and missions funded through them. God has gifted us with all that we have and it is our duty and privilege to join in extending the Kingdom of God.
Working Together
We value working together as an active body of believers. Each member's unique spiritual gifting and natural talents contribute to the total ministry of this We value a responsive, permission-giving, and streamlined approach to ministry. We commit to providing support, education, and an encouraging environment that helps members discover and develop their own personal ministries or become involved as a team member in a ministry which suits them.
We value open communication and an informed membership wherever and whenever it doesn't violate confidentiality. We encourage mutual sharing of ideas, views, and concerns in appropriate venues.
Holy Baptism
In Holy Baptism, God makes us family regardless of who we are or how old! Through baptism, as members of God's family, we have a place at God's table of grace (undeserved love). Baptism is not something we "qualify for" in some way. It is a gift of God's grace to be received in faith. In baptism we are joined to the death and resurrection of Christ (Romans 6:4) so that we may live in peace with the assurance of salvation. The Bible says, "Whoever believes and is baptized shall be saved…" (Mark16:16). Because the Bible teaches that people have a sinful nature from birth (Psalm 51:5, Ephesians 2:3), God's forgiveness, deliverance, and the promise of eternal life are given to us in baptism. In the Bible, Christ Himself commands that all be baptized in the name of God; Father, Son, and Holy Spirit. Furthermore, Jesus specifically invited children to come to Him (Luke 18:15-17) and that we should receive his kingdom as little children. Therefore, Shepherd of the Valley, following Christ's command, offers baptism to all who seek it; regardless of age or level of comprehension. Baptism is God's gift of belonging. Finally in Baptism we receive the Holy Spirit (John 3) who calls us to grow in faith and faithful response to God's gifts of grace.
Confirmation
Confirmation is a period of instruction in the Christian faith as confessed and lived in the evangelical Lutheran church. Confirmation is connected with baptism because it is the baptismal faith that is being confirmed. Confirmation instruction is usually offered in middle school years or later. It's purpose is to help baptized persons understand the gifts of their baptism and live as God's people. Two chief resources are the basis of confirmation instruction: the Bible and Luther's Small Catechism. At the conclusion of the period of instruction, the candidates for confirmation make public affirmation of their faith in a service of holy Communion.
Communion
Is communion only for Shepherd of the Valley Lutheran Church members? This is not the case at Shepherd of the Valley. Lutherans have never understood it to be God's will to restrict participation in the Lord's Supper to those who are members of any congregation. The Bible says nothing about church membership being a requirement for the reception of the Lord's Supper. Rather, the only thing that matters is whether the person who desires to receive Holy Communion is baptized in the name of the Father, Son and Holy Spirit, and believes that in the Lord's Supper (Holy Communion) we receive the body and blood of our Lord Jesus Christ as he himself said "This is my body…this is my blood" (Matthew 26:26-28). Luther's Small Catechism states that a person is truly worthy and well prepared to receive Holy Communion who has faith in these words: "Given and shed for you for the forgiveness of sins"…the words "for you" require only a believing heart.

Shepherd of the Valley Beliefs
A detailed, yet concise, explanation of our Lutheran doctrine and values is contained in our document "What Bible-believing Lutherans Believe & Value." This document is available upon request or can be taken from the literature rack in our Fellowship Hall.
It is our firm belief that the Bible alone is God's revelation, communication, and complete guide to faith and life for us and for all people!

Shepherd of the Valley Milestones
Organization of the church congregation as a new mission under Pastor Norman Nessett – 1966
First worship service held at Wilson School – February 20, 1966
Dedication of Church Building in the city of Corvallis – June 16, 1968
Installation of second Pastor, Rev. David Wobrock – September 18, 1977
Installation of third Pastor, Rev. Arthur Siegried – March 9, 1980
Installation of fourth Pastor, Rev. Patrick Chinaud – October 2, 1988
Service of Celebration & Capital campaign begun on occasion of 25th anniversary – February 24, 1991
Dedication of phase I new construction on church building – March 22, 1992
Discovery and Growth Groups in full swing – 1992
Dedication of phase II additions on church building – December 2, 1995
Installation of "Three Crosses" and new church sign – 1999