Stations of the Resurrection
IV – On the Road to Emmaus
A Psalm Paraphrase
P:
Jesus the stranger meets us on the road of life. He has questions. What is important on your walk through life?
1
Lord, you know how unmerciful and incoherent the world is. It dashes our hope, condemns our champions, executes our messiahs, and lives by the rule of the gun. So how can we make any sense out of this confusion? Pardon us, but we're too depressed to answer you.
2
Okay, we'll try to look up a bit, but we still can't look you in the eye. Our faith community has been shaken to its core. There was official misconduct, cowardly denials, fearful retreat, and now the fanciful delusions of women. We don't know what to think.
3
So, do tell! You think we're foolish and slow of heart to believe all that the prophets have spoken? Well, how's that a compliment to your followers? Don't belittle us!
4
Against our better judgment, we'd like to invite you to stay for dinner. At our home, we'll break bread together, maybe eat a bit of dried fish, and see if you can straighten things out for us. There has been a whole lot of confusion lately.
5
O my God! Jesus is made known in the breaking of bread! Our companion on the road is our companion at the table, and we are overwhelmed. Ecstatic! Blown away! And then he vanishes. We'd best get back on the road to announce what we've experienced. The Lord is made known in the breaking of bread.
6
The bread which we break is our communion in the body of Christ. The cup of blessing which we bless is our communion, our fellowship in the blood of Christ. The many are one in Christ.
P:
Glory and blessing be to God the Holy One, Creator of the universe, who in the power of the Holy Spirit, raised from the dead our Lord, Jesus Christ.
Lection
I Corinthians 10:16-17
16The cup of blessing that we bless, is it not a participation in the blood of Christ? The bread that we break, is it not a participation in the body of Christ? 17Because there is one bread, we who are many are one body, for we all partake of the one bread.
P: This is the word of the Lord.
C: Thanks be to God.
Luke 24:13-35
13That very day two of them were going to a village named Emmaus, about seven miles from Jerusalem, 14and they were talking with each other about all these things that had happened. 15While they were talking and discussing together, Jesus himself drew near and went with them. 16But their eyes were kept from recognizing him. 17And he said to them, "What is this conversation that you are holding with each other as you walk?" And they stood still, looking sad. 18Then one of them, named Cleopas, answered him, "Are you the only visitor to Jerusalem who does not know the things that have happened there in these days?" 19And he said to them, "What things?" And they said to him, "Concerning Jesus of Nazareth, a man who was a prophet mighty in deed and word before God and all the people, 20and how our chief priests and rulers delivered him up to be condemned to death, and crucified him. 21But we had hoped that he was the one to redeem Israel. Yes, and besides all this, it is now the third day since these things happened. 22Moreover, some women of our company amazed us. They were at the tomb early in the morning, 23and when they did not find his body, they came back saying that they had even seen a vision of angels, who said that he was alive. 24Some of those who were with us went to the tomb and found it just as the women had said, but him they did not see." 25And he said to them, "O foolish ones, and slow of heart to believe all that the prophets have spoken! 26Was it not necessary that the Christ should suffer these things and enter into his glory?" 27And beginning with Moses and all the Prophets, he interpreted to them in all the Scriptures the things concerning himself.
28So they drew near to the village to which they were going. He acted as if he were going farther, 29but they urged him strongly, saying, "Stay with us, for it is toward evening and the day is now far spent." So he went in to stay with them. 30When he was at table with them, he took the bread and blessed and broke it and gave it to them. 31And their eyes were opened, and they recognized him. And he vanished from their sight. 32They said to each other, "Did not our hearts burn within us while he talked to us on the road, while he opened to us the Scriptures?" 33And they rose that same hour and returned to Jerusalem. And they found the eleven and those who were with them gathered together, 34saying, "The Lord has risen indeed, and has appeared to Simon!" 35Then they told what had happened on the road, and how he was known to them in the breaking of the bread.
P: This is the word of the Lord.
C: Thanks be to God.
Artwork and Discussion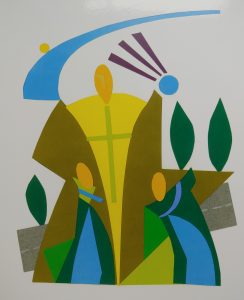 Luke 24:13-35
"On the road" is a phrase that hooks into the modern experience of the transient life, of moving on , rushing to closure, getting over it. The two disciples, one of them named Cleopas, were trying to cope with the events of the past Friday, their dashed hopes for Israel's national revival, and the merciless twists of fate. It was now the end of the third day since Jesus' death, the time frame, according to popular belief, at the end of which his soul would have departed his body for good. They didn't recognize the stranger who joined them on the road. Grief clouds their vision. His visage perhaps was changed; on the other side of resurrection no limitations of space or time can hinder the Christ.
It isn't just the eye-witnesses who can give testimony; the first Testament (called "old" by Christians) contains a witness as well. "Did not the Messiah have to suffer these things and then enter his glory?" the incognito Jesus asks them. Remember Isaiah 53 or Ezekiel 34:23 or Malachi 3:1 or Hosea 6:2 or Deuteronomy 18:15? This is time for intensive Bible study! As God's prophet and preacher, Jesus has suffered a prophet's fate—perishing in Jerusalem, yet, as prophets before him (see Luke 13:31-35). It was necessary!
It was through the classic practice of Christian hospitality that Cleopas and his friend entertained the Messiah unawares (see Hebrews 13:2). They issued an invitation to break bread with them as their new-found companion. Such an act, connected to the feeding miracles of Jesus (Luke 9:16) and to the first Lord's supper (Luke 22:19) becomes the sacramental sign of Christ's presence (see 1 Corinthians 10:16-17—the Greek word is 'koinonia'). Abide with us!
Redemption does not happen through warfare or violence or apocalyptic signs but through Jesus' suffering, rising, and gift of peace. It happens among us when we break bread in his name and remember what happened on the night he was betrayed.
Meditation / A Responsive Reading
7
Jesus meets us on the road of life wherever our planned destination might point us. He unveils the mysterious plan of God that was necessitated by the flaws that marred the first creation. While everything in the beginning was good, it soon was corrupted by lust, envy, murder, conspicuous consumption, and private greed.
8
Neither the confusion of languages at Babel nor the purge of the flood could correct the debasement of humankind. Later, the commandments set in stone and the blood of animals became cliches and pious acts which obscured justice. Self-righteousness ruled.
9
What it took was a cross and resurrection. The self-giving love of God is the passionate answer to human perfidy. God doesn't abandon the world but loves it still and sends his only Son into the matrix, the caldron, the crush of humanity headed for hell.
10
Stay with us Lord, for it is evening. The day is almost over. You cause our hearts to burn within us because you fulfill the word of the prophets and live the love of God. You have the words of eternal life. In you, we discover our true selves and the true selves of our brothers and sisters.
The Prayer
P:
Lord, the road of life seems long and unforgiving. You walk it ahead of us, beckoning us forward with promise and peace. You are the image of the invisible God and, in you, God's plan becomes concrete. You hold the universe together in love despite the explosions of the stars and empires. You even have table fellowship with us as our companion and champion. Thank you! In your love, we come alive! Amen.
Closing Hymn
Closing
A:
Breaking bread is a common gesture of basic humanity which overcomes the barriers of race, class, religion, fortune, and ethnic tribe. Discover the inclusive Christ community in the Lord's Supper, then extend it to the poor and needy through a local food pantry. Wonder bread!