Pastor's Post for Sunday January 29th – 4th Sunday after Epiphany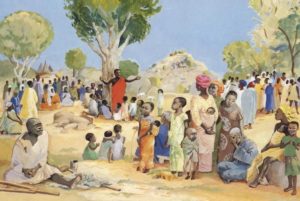 Image on Left: JESUS MAFA. The Sermon on the Mount, from Art in the Christian Tradition, a project of the Vanderbilt Divinity Library, Nashville
Dear friends in Christ,
This Sunday, January 29, we begin a four week series focusing on Jesus' Sermon on the Mount as found in Matthew chapters 5. 6, and 7. This Sunday Jesus' opening words in the Sermon on the Mount will be our Gospel reading, Matthew 5:1-12. These words may be familiar to many people, but I think that they can be easily misunderstood or worse taken for granted. They are commonly called The Beatitudes, the "beautiful sayings."  Each of the first verses of His sermon begins with the word "blessed."
"Blessed are the poor in spirit, for theirs is the kingdom of heaven.
"Blessed are those who mourn, for they shall be comforted.
"Blessed are the meek, for they shall inherit the earth.
"Blessed are those who hunger and thirst for righteousness, for they shall be satisfied.
"Blessed are the merciful, for they shall receive mercy.
"Blessed are the pure in heart, for they shall see God.
"Blessed are the peacemakers, for they shall be called sons of God.
"Blessed are those who are persecuted for righteousness' sake, for theirs is the kingdom of heaven.
"Blessed are you when others revile you and persecute you and utter all kinds of evil against you falsely on my account. Rejoice and be glad, for your reward is great in heaven, for so they persecuted the prophets who were before you.
What does the word "blessed" mean in your world? What did Jesus' disciples understand by the word "blessed?" What did Jesus mean by the word "blessed?" Why does he tell us, why did he tell them they were blessed? It's important to note, too, the conditions which Jesus says are evidence of blessedness, and they aren't what you would expect in the common sense use of the word blessed. For Jesus, to be blessed is not to be merely fortunate or lucky. The list is rather a list that sounds like the real world in which most of us live where there is poverty of spirit (read discouragement?), there is sadness, there is a desire for doing what's right even when it isn't popular: being merciful, seeking peace, and maybe suffering persecution.
Pastor David Lose, who was the featured speaker at the Byberg Preaching Conference I attended earlier this month in Canon Beach, posed a very interesting some years ago. He asked, "Is Jesus teaching the disciples the conditions for being blessed, or is He actually blessing them in His preaching?"
Personally I think it was the latter. Jesus was blessing those disciples on that day. He was telling them that regardless of their circumstances, they could rest securely in the knowledge that they were God's blessed and beloved people. He wanted them to know that everything he was going to tell them in the rest of His sermon was all based on this one thing: they were blessed!
What would happen in our lives if we began each day and faced each challenge and struggle in our lives in the sure and certain hope that we were God's blessed people? Would our attitudes be different? Would the way we relate to others be different? Would we end our day differently knowing that whatever happened we were blessed, sometimes in ways we are unaware of at first?
The pastor who baptized and confirmed me was a victim of childhood polio and walked with a limp. As he grew older he had to use a wheelchair. He continued to serve as a pastor and I was there to celebrate the 50th anniversary of his ordination some years ago. Late he life he started a new mission congregation in Lacombe, Louisiana near New Orleans. He began a new tradition in that congregation. Before he welcomed the congregation to Sunday worship he would ask in a loud voice, "How are you today?" And the whole congregation would respond, "Blessed! How about you?" And he would respond, "Blessed indeed."  Maybe we should all give that a try!'
Blessings!
Pastor Joe Hughes
Voice & text:  217-898-9063                                                  Email:    j_w_hughes@hotmail.com