Pastor's Post for January 1, 2017! Happy New Year!
Dear friends in Christ,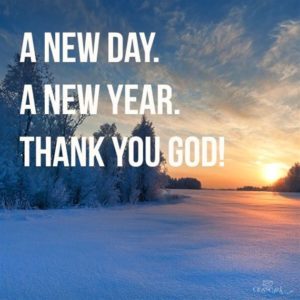 On behalf of our staff, Lisa Boylan, Callie Santora, and I, please accept our sincere thanks for your generous Christmas gifts. It is wonderful for us to be remembered at Christmas by our church. It is good know that we are appreciated, and it is a joy and privilege to be in partnership with you in the ministry of Christ at Shepherd of the Valley. Thank you!
This Sunday is the First Sunday after Christmas, and the first day of the New Year. Please join in welcoming Pastor Rob Bjornstad as our guest preacher and worship leader at the 9:00 AM service. He will be leading us in "Now the Feast and Celebration," the Marty Haugen service of Holy Communion that we learned earlier this year. Fellowship and refreshments follow the 9:00 am service but there will be no Multi-Gen Sunday School this Sunday. Our Multi Gen Sunday School sessions resume January 8 (Epiphany Sunday) with a new series on "the priesthood of all believers" led by Peter Klammer.
As announced, my wife, and I will be traveling to see family in Texas and Louisiana from December 29-January 6. Deacon Larry Oliver is on call in the event of any pastoral care needs while I am away. You can reach him at either of these phone numbers: Home 541-738-0321, Cell – 541-730-6673.
Before we look ahead to the New Year, it is important to look back on and celebrate what we have accomplished as a church family in 2016. Here are some things that come to mind for me as I think back on 2016 at Shepherd of the Valley:
We shared in three celebrations of our 50th anniversary as a congregation under the theme "Still Serving the Good Shepherd." On April 17, over 120 filled the sanctuary as District President Paul Linnemann preached a message sharing the love of God our Good Shepherd on "Good Shepherd Sunday." In August, we enjoyed a picnic on the front lawn, and on November 6 we concluded our 50th anniversary observances on All Saints Sunday when Pastor Jeffrey Ries, a son of the congregation, served as our guest preacher. My thanks again to the wonderful people who served as our 50th anniversary celebrations team. They did a great job of making sure all the details were handled well for each event.
On the Day of Pentecost, May 15, Ellie Hintzman and Gabe Havranek were confirmed.
Earlier in the year we dedicated a new piano for our sanctuary and were able to dedicate a new website which is paying dividends through first time contacts with new people and students from OSU. All this thanks to a generous gift in memory of Anne Grappo.
We hosted the circuit pastors' conferences twice during the year- one in March and one in December.
We've renewed our relationship with Luther House campus and welcomed Pastor Jim Norlie to speak at one of our Multi-Gen Sunday School Sessions.
We began our observance of the 500th anniversary of the Reformation by welcoming Dr. Gary Ferngren to speak at Multi-Gen Sunday School on Reformation Sunday, October 30.
Following up on a goal from our January 2016 Leadership Summit, we have worked hard at improving our openness and visibility in the Corvallis community by making the church fellowship hall available to local non-profit groups and individuals, and using banner signs out near Walnut Street for special events. Thanks to Callie Santora for scheduling events in our facilities and to Ray Hart for getting those all-important banner signs up.
We completed the interim ministry process that will help us carefully assess our past, understand where we are, and thus may with clarity look toward the future.
A special team worked with me in August to complete the congregational self-study which was forwarded to District President Paul Linnemann in October.
At the end of November our annual voters' assembly meeting was an opportunity to reflect on the year as it drew to a close, elect new leadership for the coming year, and adopted a budget for our mission and ministry.
Also in October a new Call Committee was installed and began their work in November under the leadership of Dennis Anderson, the chairman.  They received your nominations for the position of settled pastor, and the Call Committee has forwarded those nominations to the district office. President Linnemann will be connecting with them over the holidays with a call list.
With joy we anticipated and then celebrated the Nativity of our Lord. Our Advent Soup Suppers were followed by singing Holden Evening Prayer together the four Wednesday of December. And what a delight to celebrate another baptism in our church right before Christmas with Lidia Watrud and her family as we celebrated the baptism of her granddaughter, Abigail.
As the year closed we are grateful to have received a major gift for the church in the amount of $25,000 which our treasurer has set aside for future ministry needs.
This week I will be meeting with the elders and president of the congregation to discuss and develop the agenda for our 2017 Leadership Summit this coming Saturday, January 7, 10:00 Am-2:00 PM.
I am sure there are many things that we can all celebrate about the year now past, but I hope we will all take some time at the end of the year to reflect on and celebrate the many blessings God has given us in 2016.
As the Gospel for this Sunday reminds us, though we may look somewhat anxiously toward the uncertainty of the future, we have the certainty of this: that the Word became flesh and dwelled among us full of grace and truth. May our hearts and minds be open to God's freely grace and the truth which comes to us in the One who is the Way, the Truth and the Life, Jesus Christ our Lord!
Happy New Year! Much love, and God's blessings!
Pastor Joe Hughes
Voice & text:  217-898-9063
Email:            j_w_hughes@hotmail.com