PASTOR'S POST: FINAL 5th Sunday of Easter Mother's Day – May 14, 2017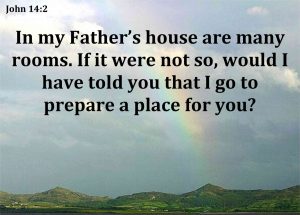 Dear Shepherd of the Valley members and friends,
As I write this last Pastor's Post for the Shepherd's Voice my heart if full of gratitude for the time we had together these past 22 months.  I absolutely cannot thank you all enough for the marvelous farewell we shared on Sunday as we marked the conclusion of our time together. Thank you for your kind words and the wonderful cards, for the absolutely wonderful framed collection of Watanabe prints and the great accompanying book from the Brauer Museum of Art at Valparaiso University. I am so grateful for these remembrances to take with me and make part of my life wherever God may be leading me. Thank you!
To be honest, however, it is not without a sense of loss that I begin a new interim call at Trinity Lutheran Church in Sheridan, Oregon. I think a lot about processes of grief and loss and how people work through them, or don't. I think it is true that there is no major change that we experience that is also not at some level also an occasion for feelings of loss.             Working through feelings of loss is a primary reason why it is important to have intentional processes of farewell and Godspeed such as we shared last Sunday.
Graduation is a good example of a kind of change that on the one hand is full of anticipation for the new, but also represents a time of loss. Two of my confirmands from Trinity in Salina, Kanas (2012-2014) graduate from high school this year, Samuel and Mikayla. A year from now their lives will be very different than they are today. Relationships with friends and family will change. Priorities will change. Adolescence is becoming adulthood for them.
Sometimes Mother's Day (also this Sunday) can be not only a time to celebrate all those who provide mothering nurturing love, but also can be hard for mothers whose children may have died, and those who would be mothers who were never blessed with children.  As heartfelt as our greetings of "Happy Mother's Day" may be this Sunday, still there are some for which it is a time when the absence of a child or children may be felt all the more.
While this Sunday's Gospel (John 14:1-10) is full of assurance and hope grounded in God's love for us, it is also important to recognize that John 14 is part of Jesus's final discourse in the Gospel of John that begins in John 13 with the washing of the feet of the disciples, and concludes with their departure for the Garden of Gethsemane. This it is part of Jesus' address in the "upper room" to prepare his disciples for the difficult realities ahead: his betrayal, suffering, and death. Jesus knows that they will be shaken to the core by what they will experience.  It is their hope and trust in God and in Christ Himself that will see them through. So Jesus says, "Let not your hearts be troubled. Believe in God; believe also in me. In my Father's house are many rooms…I go to prepare a place for you?"
While uncertain and change are always part of human life, ultimately the future is not uncertain. For we who believe and trust in Him He has prepared a place for each of us, that we may at last come to our true "home" in the household of God.  This good news is at the heart of who and what we are wherever we are called to be church. The Lord bless and keep you all.
In Christ,
Pastor Joe Hughes
Voice & text:  217-898-9063
Email:            j_w_hughes@hotmail.com
PASTOR JOE'S INSTALLATION SERVICE AT TRINITY, SHERIDAN
Trinity Lutheran Church of Sheridan Oregon invites the members of our local Northwest District congregations to join us for a Service of Installation on Sunday, May 21 at 3:00 PM. The service will be at Trinity Lutheran Church, 311 SE Schley Street in Sheridan.
For more information please call (503) 843-4747  or email stefaniem@sheridantlc.org, Or log on to the congregation's website at https://www.sheridantlc.org
We are delighted that Rev. Dr. Joseph Hughes will be installed as Intentional Interim Minister in that afternoon Divine Service. LC-MS clergy are invited to participate in the Rite of Installation.  Please be prepared to vest and wear 'red' for the occasion. A reception will follow.
The Rev. Michael Warmbier, Circuit Visitor