Confession
P: We come before the Lord this day to be strengthened in faith and to be witnesses of righteousness and truth before a hostile world. Let us first confess our own sinfulness, that we receive mercy, grace, and forgiveness from God.
C: Most merciful God, we confess that we are by nature sinful and unclean. We have sinned against You in thought, word, and deed, by what we have done and by what we have left undone. We have not loved You with our whole heart; we have not loved our neighbors as ourselves. We justly deserve Your present and eternal punishment. For the sake of Your Son, Jesus Christ, have mercy on us. Forgive us, renew us, and lead us, so that we may delight in Your will and walk in Your ways to the glory of Your holy name. Amen.
Assurance of Forgiveness
P: Upon this, your confession, I, by virtue of my office as a called and ordained servant of the Word, announce the grace of God to all of you. And in the stead and by the command of my Lord Jesus Christ, I forgive you all your sins in the name of the Father and of the + Son and of the Holy Spirit.
C: Amen.
Prayer of the Church
P: Let us pray for the whole people of God in Christ Jesus and for all people according to their needs:
(after each petition)
P: Lord in your mercy,
C: hear our prayer.
Announcements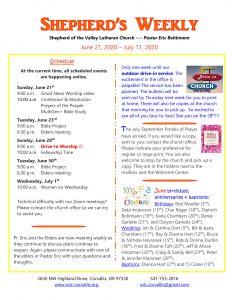 Survey about returning to in person worship.
Bible Study: Justice