Eucharistic Worship
Invocation
P: In the name of the Father and of the + Son and of the Holy Spirit.
C: Amen.
Confession and Absolution
P: By ourselves, we are not righteous and cannot free ourselves; our only hope is to be given Christ's righteousness and thereby be saved. Let us therefore confess our sins to God, our heavenly Father.
Silence for reflection on God's Word and our sinful condition.
P: Merciful God,
C: I confess to You and in the presence of my brothers and sisters that I daily sin. I say with St. Paul, "I find it to be a law that when I want to do right, evil lies close at hand. Wretched man that I am! Who will deliver me from this body of death?"
P: Jesus said, "Come to Me, all who labor and are heavy laden, and I will give you rest." He offers full and free pardon for all your sins and even your sinful condition. By His death and resurrection, He provides rest, not only from physical turmoil and emotional stress; in Him, we find rest for the soul! As a called and ordained servant of Christ, I therefore forgive you all your sins in the name of the Father and of the T Son and of the Holy Spirit.
C: Amen.
This Is the Feast
Prayers of the Church
P: Let us pray for the whole people of God in Christ Jesus, and for all people according to their needs.
Lord, in Your mercy,
C: hear our prayer.
(additional petitions will be offered)
P: Into Your hands, O Lord, we commend all for whom we pray, trusting in Your mercy; through Your Son, Jesus Christ, our Lord.
C: Amen.
SACRAMENT
Preface
P: The Lord be with you.
C: And also with you.
P: Lift up your hearts.
C: We lift them to the Lord.
P: Let us give thanks to the Lord our God.
C: It is right to give Him thanks and praise.
Proper Preface
P: It is truly good, right, and salutary that we should at all times and in all places give thanks to You, holy Lord, almighty Father, everlasting God, through Jesus Christ, our Lord, who on this day overcame death and the grave and by His glorious resurrection opened to us the way of everlasting life. Therefore with angels and archangels and with all the company of heaven we laud and magnify Your glorious name, evermore praising You and saying:
Sanctus
Prayer of Thanksgiving
P: Blessed are You, O Lord our God, King of all creation, for You have had mercy on us and given Your only-begotten Son, that whoever believes in Him should not perish but have eternal life.
Realizing His eternal cure for the sickness of our sin and the relief He provides from the tiredness of our daily struggle, we rest in the grace flowing from His cross and empty tomb.
We give You thanks for the redemption You have prepared for us through Jesus Christ.  Grant us Your Holy Spirit that we may faithfully eat and drink of the fruits of His cross and receive the blessings of forgiveness, life, and salvation that come to us in His body and blood.
C: Amen.
The Words of Our Lord
P: Our Lord Jesus Christ, on the night when He was betrayed, took bread, and when He had given thanks, He broke it and gave it to the disciples and said: "Take, eat; this is My + body, which is given for you. This do in remembrance of Me."
In the same way also He took the cup after supper, and when He had given thanks, He gave it to them, saying: "Drink of it, all of you; this cup is the new testament in My + blood, which is shed for you for the forgiveness of sins. This do, as often as you drink it, in remembrance of Me."
Proclamation of Christ
P: As often as we eat this bread and drink this cup, we proclaim the Lord's death until He comes.
C: Amen. Come, Lord Jesus.
P: O Lord Jesus Christ, only Son of the Father, in giving us Your body and blood to eat and to drink, You lead us to remember and confess Your holy cross and passion, Your blessed death, Your rest in the tomb, Your resurrection from the dead, Your ascension into heaven, and Your coming for the final judgment. So remember us in Your kingdom and teach us to pray:
C: Our Father who art in heaven,
hallowed be Thy name,
Thy kingdom come,
Thy will be done on earth
as it is in heaven;
give us this day our daily bread;
and forgive us our trespasses
as we forgive those
who trespass against us;
and lead us not into temptation,
but deliver us from evil.
For Thine is the kingdom
and the power and the glory
forever and ever. Amen.
Pax Domini
P: The peace of the Lord be with you always.
C: Amen.
Agnus Dei
Sharing of the Sacrament
Thank the Lord
Post-Communion Thanksgiving
P: Let us pray.
O Lord God, heavenly Father, Ruler of all things, You have given us a foretaste of the feast to come through this blessed Meal. Send Your Holy Spirit that, having now received this wondrous Sacrament, we die daily through Baptism and rise new and restored as we joyfully continue our earthly pilgrimage until that time when we are gathered into Your heavenly kingdom to share in Your glory for all eternity. This we ask through Jesus Christ, our Lord, who lives and reigns with You and the Holy Spirit, one God, forever and ever.
C: Amen.
The Faith we share
Nicene Creed
C: I believe in one God,
the Father Almighty,
maker of heaven and earth
and of all things visible and invisible.
And in one Lord Jesus Christ,
the only-begotten Son of God,
begotten of His Father before all worlds,
God of God, Light of Light,
very God of very God,
begotten, not made,
being of one substance with the Father,
by whom all things were made;
who for us men and for our salvation came down from heaven
and was incarnate by the Holy Spirit of the virgin Mary
and was made man;
and was crucified also for us under Pontius Pilate.
He suffered and was buried.
And the third day He rose again according to the Scriptures
and ascended into heaven
and sits at the right hand of the Father.
And He will come again with glory to judge both the living and the dead,
whose kingdom will have no end.
And I believe in the Holy Spirit,
the Lord and giver of life,
who proceeds from the Father and the Son,
who with the Father and the Son together is worshiped and glorified,
who spoke by the prophets.
And I believe in one holy Christian and apostolic Church,
I acknowledge one Baptism for the remission of sins,
and I look for the resurrection of the dead
and the life + of the world to come. Amen.
Benedicamus
P: Let us bless the Lord.
C: Thanks be to God.
P: The Lord bless you and keep you.
The Lord make His face shine on you and be gracious to you.
The Lord look upon you with favor and + give you peace.
C: Amen.
Closing Hymn:
Dismissal
A: Go in peace. Serve the Lord.
C: C: Thanks be to God!
Announcements: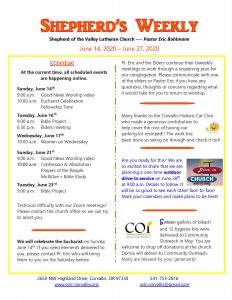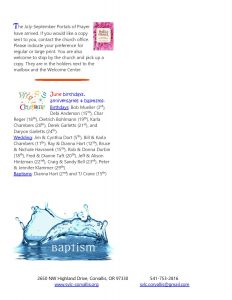 Fellowship:
Create a worthless super power. Example: You dry off instantly after showering.
What are your summer plans? Need any help thinking of something new to do?
Sermon question: (Relationship, Remember, Respond) Which of the three R's resonated with you the most?
What brings you peace? Where in your life would you like more peace?
Creative Worship for the Lutheran Parish, Series A, Quarter 2. Copyright © 2019 Concordia Publishing House.
All rights reserved. Used by permission.
Acknowledgments
Unless otherwise indicated, Scripture quotations are from the ESV® Bible (The Holy Bible, English Standard Version®), copyright © 2001 by Crossway, a publishing ministry of Good News Publishers. Used by permission. All rights reserved.
Created by Lutheran Service Builder © 2018 Concordia Publishing House.