Christmas Eve Worship
Shalom & Merry Christmas!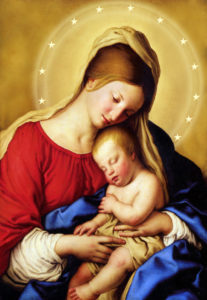 This Christmas Eve, Shepherd wants to help you celebrate the birth of Jesus Christ, the Son of God. The birth and mission of Jesus Christ is the central event of God's plan to save and restore you, humanity, and all of creation. How? By God becoming that which he created to reflect his creative love – a human being. By God becoming a human being, God is radically altering what will happen to you when Jesus finishes his mission when, like an artist, refashions creation in his likeness and sets you, humanity, and creation on a new course of life. Jesus has done as a free gift for you. Trusting in him and his work is what transforms us and allows his work to take root and grow today. Blessings on your worship. Below you will find directions and video service parts to aid you in giving thanks for God's work in Jesus Christ.
Your home worship experience will be a mix of spoken parts at home and video segments. Familiarize yourself with the order of worship and make a plan for how your house will handle the speaking parts, the parts have been divided up by icons with roman numerals – I & II. More or less than 2 people can participate. Divide the parts up as you go or assign them before you start worship. If you are the sole person in your home and want to participate with someone, consider calling via your phone or video someone and celebrate together.
What you need for worship:
– 5 Advent candles: If you don't have an Advent wreath, five candles of any color can work. Designate one of the candles as the Christ Candle. If you want to know more about the Advent wreath click here.
– 1 candle per person: Depending on the type of candles, you might want to make your own hot wax guard. Click here for a video tutorial.
– Order of service: Print this order of service or open it on your smartphone or tablet. Depending on your set-up, you can also follow the order of service on this webpage.
– Easy viewing of a screen with good audio capability for all those participating in worship.
– Hot chocolate. Just kidding. but really, drink some hot chocolate, This is a night to celebrate so do it!
Christmas Eve Worship
Invocation
I: In the name of the Father and of the + Son and of the Holy Spirit.
II:  Amen.
Lighting the Advent Candle
I: Jesus Christ is the Light of the world,
II: the light no darkness can overcome.
I:  Let Your light scatter the darkness
II: and illumine Your Church.
Light your Advent candles and then sing, "We Light The Advent Candle."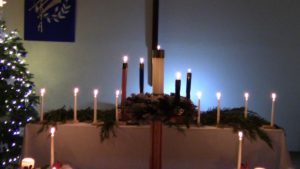 Salutation
I: The Lord be with you.
II:  And also with you.
A prayer for the evening
I:  O God, You make us glad with the yearly remembrance of the birth of Your only-begotten Son, Jesus Christ. Grant that as we joyfully receive Him as our Redeemer, we may with sure confidence behold Him when He comes to be our Judge; through the same Jesus Christ, our Lord, who lives and reigns with You and the Holy Spirit, one God, now and forever.
II: Amen.
First Lesson & Carol
Luke 1:5-13, 16, 59-79
5 In the days of Herod, king of Judea, there was a priest named Zechariah, of the division of Abijah. And he had a wife from the daughters of Aaron, and her name was Elizabeth. 6 And they were both righteous before God, walking blamelessly in all the commandments and statutes of the Lord. 7 But they had no child, because Elizabeth was barren, and both were advanced in years.
8 Now while he was serving as priest before God when his division was on duty, 9 according to the custom of the priesthood, he was chosen by lot to enter the temple of the Lord and burn incense. 10 And the whole multitude of the people were praying outside at the hour of incense. 11 And there appeared to him an angel of the Lord standing on the right side of the altar of incense. 12 And Zechariah was troubled when he saw him, and fear fell upon him. 13 But the angel said to him, "Do not be afraid, Zechariah, for your prayer has been heard, and your wife Elizabeth will bear you a son, and you shall call his name John.
16 And he will turn many of the children of Israel to the Lord their God,
59 And on the eighth day they came to circumcise the child. And they would have called him Zechariah after his father, 60 but his mother answered, "No; he shall be called John." 61 And they said to her, "None of your relatives is called by this name." 62 And they made signs to his father, inquiring what he wanted him to be called. 63 And he asked for a writing tablet and wrote, "His name is John." And they all wondered. 64 And immediately his mouth was opened and his tongue loosed, and he spoke, blessing God. 65 And fear came on all their neighbors. And all these things were talked about through all the hill country of Judea, 66 and all who heard them laid them up in their hearts, saying, "What then will this child be?" For the hand of the Lord was with him.
67 And his father Zechariah was filled with the Holy Spirit and prophesied, saying,
68 "Blessed be the Lord God of Israel,
for he has visited and redeemed his people
69 and has raised up a horn of salvation for us
in the house of his servant David,
70 as he spoke by the mouth of his holy prophets from of old,
71 that we should be saved from our enemies
and from the hand of all who hate us;
72 to show the mercy promised to our fathers
and to remember his holy covenant,
73 the oath that he swore to our father Abraham, to grant us
74 that we, being delivered from the hand of our enemies,
might serve him without fear,
75 in holiness and righteousness before him all our days.
76 And you, child, will be called the prophet of the Most High;
for you will go before the Lord to prepare his ways,
77 to give knowledge of salvation to his people
in the forgiveness of their sins,
78 because of the tender mercy of our God,
whereby the sunrise shall visit us from on high
79 to give light to those who sit in darkness and in the shadow of death,
to guide our feet into the way of peace."
Second Lesson & Carol
Luke 1:26–38
26 In the sixth month the angel Gabriel was sent from God to a city of Galilee named Nazareth, 27 to a virgin betrothed to a man whose name was Joseph, of the house of David. And the virgin's name was Mary. 28 And he came to her and said, "Greetings, O favored one, the Lord is with you!" 29 But she was greatly troubled at the saying, and tried to discern what sort of greeting this might be. 30 And the angel said to her, "Do not be afraid, Mary, for you have found favor with God. 31 And behold, you will conceive in your womb and bear a son, and you shall call his name Jesus. 32 He will be great and will be called the Son of the Most High. And the Lord God will give to him the throne of his father David, 33 and he will reign over the house of Jacob forever, and of his kingdom there will be no end."
34 And Mary said to the angel, "How will this be, since I am a virgin?"
35 And the angel answered her, "The Holy Spirit will come upon you, and the power of the Most High will overshadow you; therefore the child to be born will be called holy—the Son of God. 36 And behold, your relative Elizabeth in her old age has also conceived a son, and this is the sixth month with her who was called barren. 37 For nothing will be impossible with God." 38 And Mary said, "Behold, I am the servant of the Lord; let it be to me according to your word." And the angel departed from her.
Third Lesson and Carol
Luke 2:1-7
1 In those days a decree went out from Caesar Augustus that all the world should be registered. 2 This was the first registration when Quirinius was governor of Syria. 3 And all went to be registered, each to his own town. 4 And Joseph also went up from Galilee, from the town of Nazareth, to Judea, to the city of David, which is called Bethlehem, because he was of the house and lineage of David, 5 to be registered with Mary, his betrothed, who was with child. 6 And while they were there, the time came for her to give birth. 7 And she gave birth to her firstborn son and wrapped him in swaddling cloths and laid him in a manger, because there was no place for them in the inn.
Fourth Lesson and Carol
Luke 2:8-12
Spoken by those in the home. 
I: 8 And in the same region there were shepherds out in the field, keeping watch over their flock by night. 9 And an angel of the Lord appeared to them, and the glory of the Lord shone around them, and they were filled with fear. 10 And the angel said to them,
II: "Fear not, for behold, I bring you good news of a great joy that will be for all the people. 11 For unto you is born this day in the city of David a Savior, who is Christ the Lord. 12 And this will be a sign for you: you will find a baby wrapped in swaddling cloths and lying in a manger."
OR
Fifth Lesson & Carol
Luke 2:13-14
13 And suddenly there was with the angel a multitude of the heavenly host praising God and saying,
14 "Glory to God in the highest, and on earth peace among those with whom he is pleased!"
Sixth Lesson & Carol
Matthew 2:1-11
1 Now after Jesus was born in Bethlehem of Judea in the days of Herod the king, behold, wise men from the east came to Jerusalem, 2 saying, "Where is he who has been born king of the Jews? For we saw his star when it rose and have come to worship him." 3 When Herod the king heard this, he was troubled, and all Jerusalem with him; 4 and assembling all the chief priests and scribes of the people, he inquired of them where the Christ was to be born. 5 They told him, "In Bethlehem of Judea, for so it is written by the prophet:
6 "'And you, O Bethlehem, in the land of Judah,
are by no means least among the rulers of Judah;
for from you shall come a ruler
who will shepherd my people Israel.'"
7 Then Herod summoned the wise men secretly and ascertained from them what time the star had appeared. 8 And he sent them to Bethlehem, saying, "Go and search diligently for the child, and when you have found him, bring me word, that I too may come and worship him." 9 After listening to the king, they went on their way. And behold, the star that they had seen when it rose went before them until it came to rest over the place where the child was. 10 When they saw the star, they rejoiced exceedingly with great joy. 11 And going into the house they saw the child with Mary his mother, and they fell down and worshiped him. Then, opening their treasures, they offered him gifts, gold and frankincense and myrrh.
Lighting of the Candles
1 John 1:5–7; Matthew 5:14–16
Light individual candles from the Christ candle and then recite the home liturgy below.
I: As the light of these candles illumines our faces, it symbolizes the light of Christ, the Child in the manger at Bethlehem, the Savior suffering our death on the cross and soon to come from His throne on high as Judge of all. He is our light here on earth and the eternal light who enlightens heaven, where there is no need of candle or sun. Rejoice, for the Light of the world has come, who transforms us with the brightness of His glory.
This is the message we have heard from Him and proclaim to you, that God is light, and in Him is no darkness at all.
II:  If we say we have fellowship with Him while we walk in darkness, we lie and do not practice the truth.
I: But if we walk in the light, as He is in the light, we have fellowship with one another,
II: and the blood of Jesus His Son cleanses us from all sin.
I: You are the light of the world. A city set on a hill cannot be hidden. Nor do people light a lamp and put it under a basket, but on a stand, and it gives light to all in the house. In the same way, let your light shine before others, so that they may see your good works and give glory to your Father who is in heaven.
O God, as You make us glad by the yearly festival of the birth of Your only-begotten Son, Jesus Christ, grant that we, who joyfully receive Him as our Redeemer, may with sure confidence behold Him when He comes to be our Judge; who lives and reigns with You and the Holy Spirit, one God, now and forever.
All: Amen.
The Benediction & Closing Hymn